Mocha Cupcakes
If you like coffee and chocolate, then you'll love these Mocha Cupcakes!  Moist, deeply chocolate-y cupcakes are topped with a silky Swiss buttercream that's spiked with rich espresso. 
It's Friday, woo-hoo!
Can somebody please tell me where the week went?  Seriously.
I'm so sorry for the spotty posting schedule of late.  You may or may not have caught in a recent post that I've been recovering from a pretty bad illness.  Every day is a little bit better, but I'm still fighting a bothersome cough and my energy levels are just nowhere near what I'm used to.  I'm doing my best to keep up on Pinterest, Facebook, and Instagram, but it's been hard for me to get into the kitchen to do a whole lot of recipe testing (which goes hand in hand with tons of dirty dishes!).
Still, I couldn't let this week go by without honoring my friend Meriem, from the blog Culinary Couture.  Meriem and I have been friends pretty much since I started blogging.  She's so super-talented and we have so much in common (namely, a passion for baking beautiful sweets!).  Meriem just got engaged and I couldn't be happier for her!  So when our mutual friend Nora (of A Clean Bake) invited me to be a part of her virtual bridal shower, I couldn't refuse!
The theme of this shower is "Made for Each Other."  Isn't that sweet and clever?  Because Meriem and her beau are a match made in heaven, Nora encouraged us all to choose a flavor combination that's iconic and well-loved.  I decided to match my favorite chocolate cupcake recipe up with my other favorite: coffee!
Chocolate + Coffee = Mocha.  Mmmmmm, mocha.
Are you into coffee?  Gosh I just love it.  I start every day with a cup, and I'm a bit of a snob about it.  Drip coffee just doesn't cut it for me, it has to be espresso!
I love how the roasty, slightly bitter notes bring out all the best in chocolate.  These flavors truly are a perfect match for each other!
I used a 1M tip to pipe the frosting, and I've topped it off with a chocolate covered espresso bean.  Check out the affiliate links just below the recipe card for an online source, where you can mail order these and some of the other specialty tools/ingredients I've used to create these cupcakes.
Please be sure to hop on over to Culinary Couture to wish Meriem all the best today!  And definitely click around and check out all the other fabulous recipes my fellow bloggers have created within the "Made for Each Other" theme.  There's so much variety here, I just love it!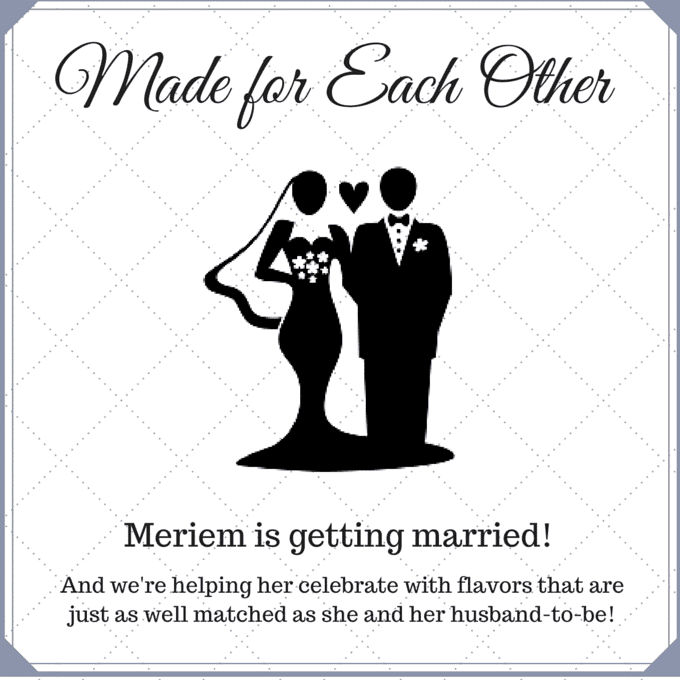 A Virtual Bridal Shower Menu:
Paleo Brookies from A Clean Bake
Yellow Cake Cupcakes with Chocolate Buttercream for Two from An Edible Mosaic
Mocha Cupcakes  from  Baking a Moment
Peanut Butter and Chocolate Cupcakes from Blahnik Baker
Cheese and Charcuterie Board from Hall Nesting
Mini Lemon Cheesecakes from What Jessica Baked Next
Mocha Cupcakes
If you like coffee and chocolate, then you'll love these Mocha Cupcakes! Moist, deeply chocolate-y cupcakes are topped with a silky Swiss buttercream that's spiked with rich espresso.

Instructions
Place the egg whites and sugar in a large metal mixing bowl set over a pot of simmering water. Cook, whisking occasionally, until the mixture is smooth, thin, and translucent, and it no longer feels gritty when rubbed between the thumb and forefinger (about 10 minutes).

Remove the bowl from the heat and whisk on medium speed until fluffy and stiff, and no hint of warmth remains when you place your hand on the side of the bowl.

Add the butter, a tablespoon at a time, whipping after each addition. If the mixture seems runny, place it in the refrigerator for 10 to 20 minutes, then re-whip.

Fold in the melted chocolate.

Place the instant espresso, water, and vanilla in a small bowl and stir together.

Whip the liquid into the chocolate buttercream, then transfer the frosting to a

piping bag

fitted with a

1M tip

.

Pipe the frosting onto the cooled cupcakes, and dust with cocoa powder.
Notes
*If you really love coffee, you can also add 3 tablespoons of instant espresso to the cupcake batter! Just stir it in along with the dry ingredients.
©
Calories: 150kcal, Carbohydrates: 12g, Protein: 1g, Fat: 10g, Saturated Fat: 6g, Cholesterol: 22mg, Sodium: 10mg, Potassium: 67mg, Sugar: 11g, Vitamin A: 250IU, Calcium: 8mg, Iron: 0.5mg