Hummingbird Cake
Hummingbird Cake: This Classic Southern Recipe hits all the right notes with Pineapple, Banana, Cinnamon, and Nuts, all topped with a Tangy and Fluffy Cream Cheese Frosting!
Mystery Dish couldn't have come at a better time.
Sorry for my absence, you guys.  Sorry for my absence from Baking a Moment.  Sorry for my absence from Facebook.  Sorry for my absence from Twitter.  Sorry for my absence from Google Plus, and most of all, sorry for my absence from all my bloggy friends' comment sections.
I have no real good excuse other than just a general blue funk caused by things that should not really put one in a blue funk.  I knew it all along, as it was happening, that these things should not get me down, that I have too much to be thankful for, and fun projects to occupy myself with, and wallowing can never be a good thing, but sometimes I think we just need to let these things run their course.
February is a tough month.  I mean, once all the flush of Valentine's day is all over, there's not much else to look forward to, other than Spring.  And that's not happening as soon as we'd like, I'm sure.  Still lots of snow on the ground, and more to come.  Thankfully, there were a few bright and sunny days over the last week, and I for one think soaking up some sunshine is the best remedy for that gloomy late February state of mind.
If you haven't been lucky enough to catch a few glimpses of the Spring weather that is to come, this cake is the next best thing.  Just when we're all sick to death of looking at the same four walls, while dreary skies and dirty slush unwittingly worm their way into our peripheral consciousness, along comes the sunniest, fluffiest, most tropical treat anyone could ever imagine.
Have you ever heard of hummingbird cake before?  I only recently became familiar with it myself.  Evidently it's a classic southern recipe.  It's unclear how it got it's name, but the one thing I knew for sure, when I saw this month's ingredients list, was that it was exactly what I needed at that moment.
Fresh Mushrooms
Pork
Spinach
Cream Cheese
Pineapple
Butterscotch Chips
Macadamia Nuts
Sriracha Hot Chili Sauce
Ritz Crackers
Tortillas
That pineapple and cream cheese have hummingbird cake written all over them, am I right?  And while traditionally it's made with pecans, macadamia nuts make a fun substitution…
A little banana adds to the tropical flavor of this cake, and cinnamon speaks to that cozy feeling we're all still so into at this time of year.
The cake is made in one bowl, with no fancy or complicated method.  Just dump and stir!  It doesn't get much simpler.
I often keep fresh pineapple in our fruit basket during the winter months, since there are so few other fruit options that are locally grown and seasonal.  So, although the original recipe calls for canned pineapple, I just tossed a few cubes of fresh into my mini chopper, along with a splash of orange juice to keep things running smoothly.
I used the same chopper for my nuts and banana too.  Don't bother washing it out in between- it all ends up in the same place!
This recipe is for a smaller cake (2 six-inch layers), but if you'd like something larger, to feed a crowd, it doubles easily.  That will get you 2 eight-inch layers, or, a 9×13-inch sheet cake, or, about 2 dozen cupcakes, which would be totally adorable 😉
If you'd like some tips on decorating your cake in this way, I'm giving a quick rundown, along with affiliate links to products I use and recommend, within the recipe card below.
Now before I share the fabulous recipe, please take a moment to look at all the mouthwatering treats my Mystery Dish friends whipped up:
How 'bout it???
Hummingbird Cake
Hummingbird Cake: This Classic Southern Recipe hits all the right notes with Pineapple, Banana, Cinnamon, and Nuts, all topped with a Tangy and Fluffy Cream Cheese Frosting!
Ingredients
1 1/2 cups cake flour
1 cup granulated sugar
1/3 cup neutral oil, such as vegetable or canola
2 large eggs
1 ripe banana, mashed
4 ounces canned crushed pineapple with juice, or fresh pineapple, chopped finely, with 1 tablespoon orange juice, plus a few extra wedges for garnish
1/4 cup finely chopped macadamias or pecans, plus about a cup more for garnish
2 teaspoons baking powder
1/2 teaspoon vanilla extract
1/2 teaspoon ground cinnamon
1/2 teaspoon kosher salt
1 8-ounce block cream cheese (do NOT use reduced fat; do NOT use the kind in a tub), softened
3/4 cup powdered sugar
1 teaspoon vanilla extract
3/4 cup heavy whipping cream, cold
Instructions
Make the Cake:
Preheat the oven to 325 degrees F.
Lightly spray (2) 6-inch diameter cake pans with non-stick spray, and coat with flour, tapping out excess.
Place all the cake ingredients in a large bowl and stir to combine.
Divide the batter equally between the two pans, and bake for 30 minutes, or until the tops spring back when lightly pressed. A toothpick inserted in the center of the cakes should come out clean or with a few moist crumbs.
Make the Frosting:
Place the cream cheese in the large bowl of a stand mixer, fitted with the paddle attachment. Mix on low speed until smooth.
Sift in the powdered sugar and add the vanilla. Mix until well incorporated.
Switch to the whip attachment, and slowly drizzle in the cold cream, in a thin and steady stream, while whipping on medium high speed. Turn off the mixer as soon as the mixture holds stiff peaks. Do not overbeat or it will become runny.
To assemble:
Place the first layer, top side down, on a cardboard cake circle. Top with a generous scoop of frosting, and lay the next layer on top.
Using a cake turntable, scoop more frosting on top and wiggle your offset spatula over the frosting, allowing some to overhang the top edge of the cake.
Wiggle, wiggle, wiggle (don't scrape!) the frosting down and around the sides.
Spin the turntable while holding the spatula at a 90-degree angle to the floor, to smooth out the sides.
Slide excess frosting back into the bowl and run the edge of the spatula over the top of the cake, to take any excess off the top edge and smooth the top.
Place the tip of the spatula at the center of the cake, spin the turntable, and spiral outward.
Use the spatula to remove the cake (on its cardboard) from the turntable, placing it on your left hand (assuming you're a righty).
Hold the cake over a large plate. Use your right hand to press chopped nuts onto the side of the cake, allowing excess to fall onto the plate.
Place the cake on a serving platter or stand, and pipe rosettes around the outer edge using a pastry bag and a1M tip. Garnish each rosette with a small wedge of fresh pineapple.
Nutrition Facts
Serving Size
1 slice
Amount Per Serving
As Served
Calories 710kcal Calories from fat 350
% Daily Value
Total Fat 39g
60%
Saturated Fat 22g
110%
Transfat 0g
Cholesterol 194mg
65%
Sodium 463mg
19%
Carbohydrate 84g
28%
Dietary Fiber 1g
4%
Sugars 54g
Protein 10g
Percent Daily Values are based on a 2,000 calorie diet. Your daily values may be higher or lower depending on your calorie needs:
Calories
2000
Total Fat
Less than
65g
Sat Fat
Less than
25g
Cholesterol
Less than
300mg
Sodium
Less than
2,400mg
Total Carbohydrate
300g
Dietary Fiber
25g
Now get to making your hummingbird cake!  You're going to love this happy, happy treat!  It's so perfect at this gloomy time of year; I just know it will brighten your day!  It certainly did that for me!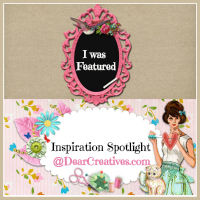 This post was featured on the Inspiration Spotlight Link Part on DearCreatives.com
*This post contains affiliate links*